Originally written on the plane!
Monday - Snorkeling Hanauma Bay, Alice in 3D
I do like taking the bus. We took it out to Hanauma Bay for snorkeling! It was a bit of a long run but we got there. The bay itself is very beautiful and the snorkeling was pretty good too! We had some great luck and saw some Moorish idols lots of parrot fish and other tropical types as well as an eel (I think it was a moray eel, but I'm not 100%), no turtles unfortunately, but I think we would have had to go to deeper water for that. The reef is very close to the beach (nice) but the water is REALLY shallow (~2 feet in lots of places) which makes it tough to stay off the reef. The effects are pretty obvious, most of the coral is dead, apparently they have a million visitors each year!! Word up, a million people are very hard to keep off the reef.
Back in town, we decided to head out to a movie. After attempting to go to the $1 theatre, which has apparently been closed for years, we ended up at the Ward 16 on Ala Moana Blvd and took in a quarter pound hot dog and Alice in Wonderland in 3D. What a fun show. I liked it, although I do have a bit of penchant for nonsense.
Joanna's take: Gorgeous day. I've never really been snorkeling before. In the first minute I kept thinking, I need to come up for air. That passed but after the first 10 minutes I realized I was clamping down my teeth so hard it was making my jaw sore. Relax. Breath. I also discovered I need to get sunscreen everywhere. There were a few odd little spots missed that seemed quite baffling.
The $1 theatre excursion was quite hilarious. I'm sure the bus driver wondered why the heck we were getting off at the deserted "restaurant row" but the evening worked out beautifully. After the movie, my first 3D experience, we ate at Boca. It's a family style Italian restaurant that I would absolutely go to again. Every menu item is either small or large, for 3 or 6. Great party place I'm sure!
Tuesday - Pearl Harbour, Switching Hotels and the Beach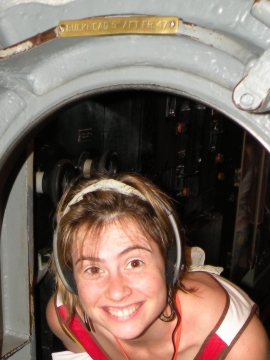 It just seems wrong to come to Oahu and not go to Pearl Harbour, so we did it. I was thinking the my Uncle Rob would probably love this place. Lots of interesting sites with such heavy historical significance. We visited the main site, watched the film, rode the boat out to the Arizona memorial and went on board the submarine Bowfin. I left the place feeling amazed in a few ways, one, just that it all happened seems amazing, I guess I am so separated from war that it feels just crazy that it actually takes place at all. Not to be cheesy, but I really do hope that people can always look for solutions to conflicts that avoid war. Secondly, it's amazing how quickly animosity has been replaced. The Japanese did the bombing but I didn't notice any feelings of animosity towards them, not in the exhibit itself or in the people there. Third, boy did things line up well for the attack that day, the Japanese really blew up a lot of American equipment.
We got back to the hotel and had to pack up our stuff and head down to the other end of Waikiki, we had decided to split our stay up between two hotels just for a change of pace. The new hotel was down at the Diamond head end of the beach. Turns out the water is equally warm at the new hotel! Perfect, we spent the rest of the afternoon reading and swimming then went out to a Japanese steak house for dinner with Kiersten, John, Nicole and Adam.
On the way back to our hotel we past Yogurtland. 14 different kind of frozen yogurt all for $0.42/ounce. What a heavenly place

Joanna's take: The video at Pearl Harbour was incredible. It seemed like they had a lot of video footage from the actual events. Who had the presence of mind to get out their camera in 1941? I came away from the day feeling that everyone needs to hold in balance the love for their country and their love for humanity. One thing that globalization and the gift of rapid air travel has accomplished, is giving us friends and family the world over. I just finished reading 3 Cups of Tea which largely takes place in Pakistan and Afghanistan. North America needs a few more friends and relatives there to get rid of the dehumanized Muslim form the American war machine is able to whip up support to destroy. They are our new Japan.
It was great to have some friends from Victoria in town! Our new hotel was much more chic with a distinctly Asian flourish. Even the walls were thin like Asian paper. Very noticeable at night with the rifraf outside and early in the morning with the small children across the hall.
I love Yogurtland! I can't wait to go back!
Wednesday - Surfing, St Patrick's Day, Chinatown, Block Party
We were going to rent a car and do the North Shore with Kiersten and co. but it turned out that there wasn't any rentals available (should have planned ahead a day) so we decided we would try our hand at surfing... Hoo boy, that was a tough morning. Joanna, got beat up on the coral and I ended up ride my board into the reef and damaging the nose.... Let's just leave it at that. There's lot's of people surfing at Waikiki but I think next time I'll just boogie board. We decided our all day surf rental was over at noon.
Luckily, that's when the St Patrick's Day parade started. We watched from our favorite restaurant in Waikiki , Lulu's (the only one (outside of Yogurtland) to get a repeat visit). Had a good lunch and watched the green and orange walk by. We bussed it down to Chinatown, seems we timed it a little badly as by 5pm most of Chinatown was closed for the day, but we did manage to find a bead store that was still open and Joanna made a few deals there. We stumbled into a Filipino restaurant for dinner, which turned out to be ultra salty fare. Dear Filipino's is all your food so salty?
Then the blessing of the IRish must have been upon us as we walked up the block to an outdoor block party. Woohoo, Dueling Rakes started the evening with a little Irish music and the Elephant brought out the sing-a-long rock tunes (as well as some of their own!) it was awesome! A lot of fun to get a chance to dance around outside to some great music!
Joanna's take: The live music was definitely the highlight of this day. I haven't been to an outdoor, live concert since Pemberton (I think) and it was a real treat to have a Bud, listen to the bands and watch the people. All types of people come out to that type of thing. There were a few young moms with babies, older couples in their 60s, and everything else in between. I'm also thankful to be out of the meat market. Many young girls dressed to impress, or at least get attention, were bouncing around. There's an emptiness hidden within the fun. I simply got to enjoy the music.
I really liked Lulus. I really disliked the Filipino restaurant. The latter did have a juke box however and we were treated to everything from Maria Carey's Sweet Fantasy to a soulful Jesus loves me. Eclectic.
On the way back from the concert we snagged out first Express bus. Note to us: find the Express bus routes at the beginning of a trip. They are much faster! It got us back in time to hit Yogurtland again. Yum.
Thursday - North Shore, Pineapples and Waimea Bay and the Coast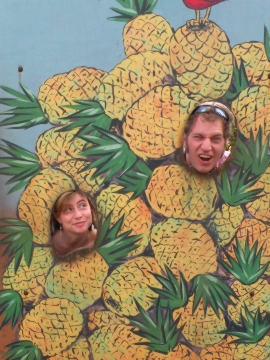 Got up early, we rented a convertible! Mustang Convertible, thank you aeroplan miles! We headed up to the Dole Plantation in time to arrive just before it opened. We paid the big dollar to ride the little train around the plantation. Which served to remind me that, I'll probably not be growing pineapple any time soon. 18 months to first fruit. Sheesh! It really makes me feel like a chump about begrudging $6 for a pineapple at home.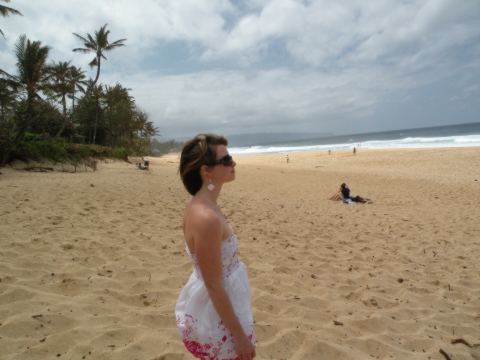 We buzzed up to Waimea Bay and beyond to grab some food from the local grocery store. Hurray the local grocer. I love seeing what is on the shelves in far off places. We picked up some edible souvenirs and some lunch then headed to Sunset beach to watch the surfers for a bit. Pretty chopped up surf, but they were still getting some reasonable rides. Then we headed back to Waimea Bay for a swim. I love Waimea Bay. I'm sure everyone says that. It was really nice. The waves were fun but not huge (thankfully) so we did a bit of body surfing and beach reading.
We headed back to Hale'wii to check out the market, I got one dynomite snow cone and we heard the Artis family band. That was cool, a family of folks playing funky music in a studio at the side of the market. I like!
We have a convertible we have to take the long way home. So we drove the East Coast, it was great awesomely steep cliffs covered in green. Back into town, we parked around the aqua palms and spa and then proceeded to walk nearly all the way back to our hotel to find some dinner with Kiersten and co. Then... Yogurtland!
Joanna's take: Definitely a highlight of the trip. I've never driven a convertible any considerable distance so this was a real treat. Blaring the heat and the tunes over the Oahu coast with the wind in my hair was exhilarating.
I enjoyed learning a bit about Pineapples. They're best if the eyes on the outside are uniform and large, the bottom is not brown and the fruit is firm all over. So much for the one trick I had which was to yank on the sprigs protruding from the top! The weather was coolest in the morning so the Dole experience was a little chilly but overall worth it. It's good to see where our food comes from. 3 pineapples from each plant over 42 months means this fruit, originally from Paraguay, is an absolute treat!
Our lunch was probably one of the best we had due to it's simplicity and the deliciousness of the guacamole and bread. The town we visited after Waimea beach reminded me of Tofino. I could live there but a quick look at a real estate shop displayed regular homes at around $800,000+.
Friday - Goodbye Oahu, Mahalo!
Today, has been a simple day, get up go swimming in the ocean, pack up head to the airport, say Goodbye to our avocados (see Saturday) and now we're on the plane!
Joanna's take: Fastest plane ride ever. I felt like we had been in flight for about 2 hours when we started our decent. I finished 3 cups of tea, the book not the real thing - airplane bathrooms are too awkward to get to - had a short nap, typed and bit and whammo we were home! I love coming into Vancouver. I had been up at 4am due to the loud wailing of a man in the street, which somehow Jeff slept through, and went downstairs to the lobby. I called Fairmont and was able to book us at the Fairmont Airport using a complimentary coupon I had. Talk about convenient!
To sum up, it was a lovely, warm, relaxing, tropical vacation. I would definitely go to Hawaii again, though we should try to hit up some other countries first. I enjoyed the cleanness of the water and streets, and the simplicity of English as the primary language. Camping would most certainly be an option in Oahu. And now, onto the adventure of our regular lives....