Originally written on the plane back from our trip!
Friday - Arrival in Waikiki
Anytime I fly out of Vancouver I'm reminded that it is a plnaes,trains and automobiles affair. After working a half day, we drove out to Ryan and Ali's place, got a ride to the ferry, rode the ferry to Tsawassen, bus to the Skytrain station, Skytrain to the airport (I love the express to the skytrain, skytrain to airport, feels like it is as quick as driving, and so much smarter) then finally the plane to Honolulu. WE got in fairly late, and stepped off the place to feel the immediate change in humidity and warmth. The airport experience wasn't completely awesome. As we were walking down to the baggage racks I asked Joanna if she had her passport and we stopped to make sure that she did. She did, ok great. We walked a little farther and headed down the stairs to the baggage claim area. Uh oh, when Jo was looking for her passport she left her book on the table. No biggie, we'll walk back and get it.... No we won't. The airport guard who just watched us walk down 10 of the steps of the stair case, won't let us. He repeatedly tells us we have to get the agent to come up the steps to get the book. sigh... We just about left it and just went, but we got in touch with the Westjet agent, who was indeed able to walk back up find the book and bring it down. So that ended well, but it was a bit of an off-putting start. Anyways, caught the shuttle into town, got to the hotel checked in, hit the local ABC store (how can you not hit one they're everywhere) and picked up some things for a museli breakfast.
Joanna's take: omigosh that book thing was frustrating! I wasn't yet in my relaxed vacation state and the obsurdity of not being able to what back up 10 stairs I just walked down made me feel slightly insane. Jeff, as always, was the picture of calm. The book had been a gift from Auntie Susie and I thoroughly enjoyed reading it on the trip. When Jeff says picked up "some things" at the ABC, he's partly referring to a bottle of Pina Colada which we went back to the room and sipped over ice on our 7th floor porch overlooking a busy Waikiki street.
Saturday - Farmer's Market and Hiking Diamond Head
There's a ton of great info stuffed into these little tourist books that are everywhere in Waikiki. REading through This Week in Oahu, we found a Farmer's Market was happening at the local College Campus near Diamond head. So we buzzed out there on TheBus and walked around. I love farmers markets! Even though it was only going on 10:00 I still felt it was right to eat some roasted corn and a sausage on a bun. Is there ever a bad time for that? The corn was interesting, it had lemon butter and a not-too-spicy chili powder sprinkled on top! WE bought some big avocados and limes, which as it turned out we didn't get to eat and had to leave at the airport. Darn no fruits and vegetables on international flights rules...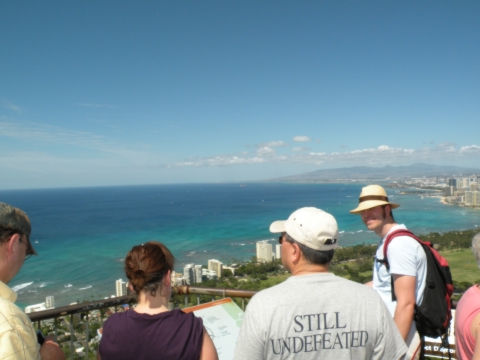 Then we quite literally crossed the street and hiked up the Diamond Head crater. Pretty neat hike, I was keen to get up in the air a little bit to get a little bit of perspective on the city. Somehow there is something that I feel like I start to understand from looking at a place from a height that seems to elude me when looking at it on the map. I really enjoyed one fellow who had toted his ukulele to the top look out and played a quick tune on it as a celebration of reaching the summit. Then to the beach and finally to a little Italian restaurant near our hotel, where there was a fellow playing music as we munch through our pizza. We all joined in for a sing-a-long of that classic Hawaiian tune, "For a good time call, 8675309" and collectively discussed how the many prank calls have been made to that number in every area code...
Joanna's take: This was a great first day for our vacation. The weather the first few days was the best if clear, brilliant blue skies is what you're after. To observe this day via beverages, it started with Mango black tea, a delicious iced Kona coffee at the Farmer's Market, several sips of water from fountains that frequently dot the parks and beaches, a glass of beer on the beach before dinner serenaded by a local musician, a small Pina Colada in the room, and finally some watery white wine with our Italian pizza. I love vacation.
Sunday - Swimming, Church on the Beach, Swap-a-meet, Honolulu Festival Parade
Swimming in Waikiki wasn't quite as awesome as I had built it up in my mind to be. The beach while it's sandy on shore turns to rocks/coral chunks almost immediately once you get in the water. (why was I not told?) so going for a swim looks a lot like quickly doing the rock dance until you get to water deep enough to swim in and then going for it. That said the water is very nice and warm. I really appreciated that.
We went to a church service on the beach which was fun and grueling. The heat just kills me at some point, in spite of adequate sunscreen. The service had two good reminders for me. One that worrying really amounts to not truly believing that God loves me. That was a good reminder. Actually that wasn't even part of the sermon, that was the pre-sermon. The second point of learning, escapes me at the moment, which just goes to show that brevity is sometimes very effective, the pre-sermon was maybe 4-5 minutes, the sermon a good 25-35.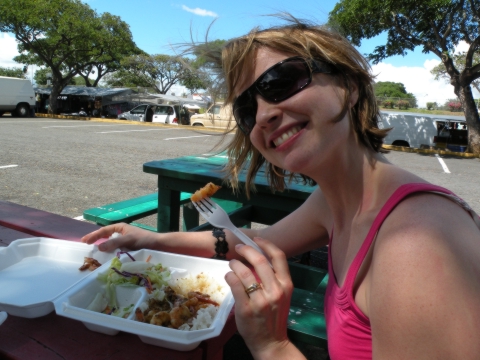 Off to the swap-a-meet, which it turns out is quite a long bus ride from Waikiki, took us roughly an hour on the 42 bus to get out to the swap-a-meet. The Swap-A-Meet itself is held surrounding the aloha stadium and has a ton of stalls, fresh fruit, t-shirts, souvenirs, plants, sunglasses, etc. We picked up a few little things for ourselves and some of the peeps back in Canada. One long bus ride back to Waikiki later we were just in time for the Honolulu festival parade ( what timing!) we took up a spot just at the head of the parade opposite the announcers. Marching bands, marching bands, I love marching bands!! Also a LOT of Hula groups. I'm hereby coining the term "destination parade" this is a parade where many participants come from great distances to participate (and have a holiday), this was a destination parade. So many groups from East Asian countries bringing their Hula troops to participate, it was nice to see. Joanna and I did have to laugh after listening to the announcers say "this group is very thankful to be hear and very excited to be fulfilling their lifelong dream of doing the Hula in Hawaii" so many times. It's started a new joke. At any particular experience, you say "Jeff/Joanna is very happy to be here and fulfilling his/her lifelong dream of _________ in Hawaii" where the blank is whatever activity we were doing at the time, ie waiting for the traffic light to turn green in Hawaii. Hmm... it was funnier at the time. Guess you had to be there...
Joanna's take: The real sermon of Sunday morning did remind us that everyone is aware of their death and they're not particularly keen on it. The Pastor was summarizing 6 things that are true about all humanity based on the parable of the rich young ruler. What I took from it is that we shouldn't be shy about sharing God's love and plan because even people who appear to "have it all" in terms of worldly success and riches, are still looking for true meaning to fill their God shaped hole. I was in a bad mood by the time he finished speaking because it took him 40 minutes to give a 10 minute sermon, it was hot, there was an alter call and his tone of voice made me feel like shouting "talk to me like you think I have a brain!!!!!" Anyway, my attitude sucked about that, and I suspect that Pastor has a deep and true relationship with God.
The swap meet was also our only attempt at the local shrimp, fried in butter and seasoning salt. Totally delicious.