Oh summer, you are a time of such energy and adventure, relaxation and rest, rejuvenation and vitality. Here's a little taste of what the summer has brought us so far.
Mt. Albert Edward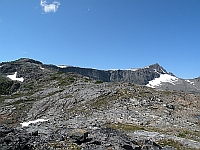 Jo and I had a week of holidays which we split up between doing a 3 day hike of Mt Albert Edward (PDF Map), a very HOT 3 day hike. That was in the midst of the heatwave mid 30's down in the Comox Valley, estimates from the ranger made it sound like it was probably high 20s or low 30s where we were, sheesh, i'm not built for that kind of heat!! The trip was great, but I really do feel like the heat made it twice as hard. Had it not been for a pond of snow melt 3/4 of the way up to the summit we wouldn't have made it to the top.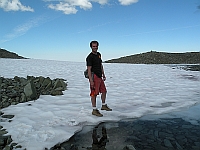 But when we did make the summit we had a delicious lunch and enjoyed a spectacular view. One I'll not soon forget, if only for how hard we had to work to get it.
Sunshine Coast
After that we headed over to the Sunshine Coast for a couple nights to visit with Joanna's family at their cabin over there. Had a great time, it was so warm and with the cabin right on the water we were able to stay reasonably cool by getting two or three swims a day. We had one completely awesome night swim up in the bio-luminescence, which was completely magical. Not to mention the opportunity to go water skiing. See picture of the water skiing Joanna.

Hardwicke Island
Finally we headed up to Hardwicke Island to finish off the holiday. It was cooling off by that time, so it wasn't REALLY hot up at Hardwicke. We had a great time up there, just laying low, reading books, going to the lake and eating great food. I had some fun fixing up a few things for the power system and really enjoyed having more than a weekend to spend being up there.
New York for Work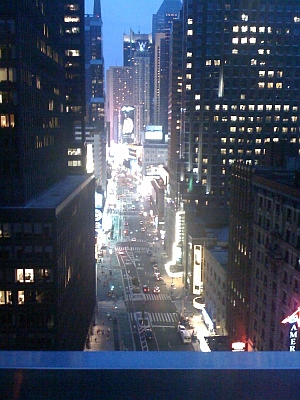 Finally, New York. The flight was kind of long, 5 hours after we made it from Vic to Seattle. It was pretty hot and humid the whole time that I was there. But enough about my petty complaints, this is NYC. I got to see a few of the sights, Central Park, Times Square, eat some New York Pizza, go dancing and listen to BisMarky in a NY Club, so there I can't say there was NO time for having fun. That said, the lion share of the time was definitely spent at the Affiliate Summit East Conference, talking, talking, talking and meeting people to try and make connections for constant-content.com. I shouldn't forget that we did have the opportunity to go to see the Yankee's pplay the Blue Jays at Yankee Stadium. Which was probably a once-in-a-lifetime experience, the Jays lost (that I fear isn't a once-in-a-lifetime experience

) It was certainly a worthwhile trip business-wise, but I'm glad to get home. A bunch of us got colds (on the plane I think) which was a real bummer, so Friday and Saturday this week, I was pretty useless. Just trying to keep my head above my shoulders.

And the summers not quite over yet!