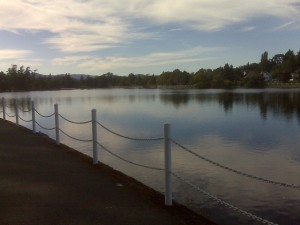 Joanna and I decided it was a good day for heading to the beach on Sunday.  And it was nice and warm, sunny, perfect.  Usually, this means a trip out to Thetis Lake to revel with themasses in a nice cool, clean lake.  But on Sunday we decided to slum it and stayed in Esquimalt.
Staying close to home meant swimming in the Gorge, I've been meaning to do that for what seems like years (well maybe just year).  Needless to say I've been wanting to do, because:
Nobody swimms in the Gorge, but I can't think of a reason why not
The Gorge is somewhat an estuary which means lots of life
There is a rapid where the Gorge narrows and I dream of having my personal free wakeboarding/surfing site as the tide goes in and out.
I mentioned that I wanted to swim in the Gorge to one of my workmates and as a true born and bred Victorian (they're a rare breed) he told me he would never swim in the Gorge as it far too dirty.
But I did it, and... it was fine.  Lots of eel grass, not terribly warm (but not terribly cold).  I swam through the rapids, and snorkelled along the shore.  And while the place isn't exactly teeming with life, there was plenty of filter feeders (oysters, rock scallops, clams, etc) doing there thing, and a few small fishes.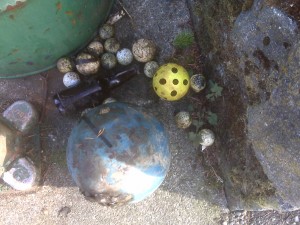 On any snorkelling adventure I hope and pray for loot and snorkelling in the Gorge was a treat beyond compare (did I metion nobody swims in the Gorge?!).  It was like visiting Sports Traders.  10+ golf balls, 1 lacrosee ball, 1 Wiffle Ball, one golf tee, a bottle of beer and my pride and joy 1 ten pin bowling ball.  I was really proud of the bowling ball.  I left it at the bottom of a garbage can.  The poor city worker who has to empty that can.  I hope he brought his "a" game to work when he tries to lift that grabage bag.