Today is Ash Wednesday, which for the liturgically savvy is completely obvious and expected, but for me, I often find that Lent creeps up on me and I end up waking up to the fact that it is happening when it is already half ways over.  Not this year.  This year I'm on it.  Lent is a time of preparation for Christians leading up to Easter.  One common way to prepare is to give up something for the forty days leading up to Easter.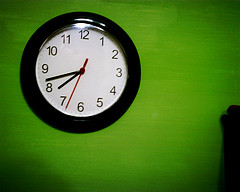 I tend to feel a bit cheesy about the things that I've given up in the past.  Giving up a food or drink seems like a common choice, but it doesn't seem like there is a particular food that really has a hold on me (except maybe museli, but museli is healthy for crying out loud, I can't give up something that is healthy!) .  I started thinking about what is the most valuable commodity in my life right now.  What is the thing that I never seem to have enough of.  Looking at it from that direction, I realized pretty quickly that my most valuable asset these days is time.  Never seem to have enough time. So, for Lent I'm choosing to give up a couple habits that make up 20 minutes of my morning habit.  Checking facebook and twitter.  Pretty much every morning I sink 10 minutes into each of them, and I can't help but wonder if my mental and spiritual state of being is really any better for it, I have a hunch the time could be reclaimed and better spent.
No intent to swear off these things completely, maybe twitter seeing as I really only have a couple real friends active there, but just to eliminate checking on these time sinks as a part of my morning routine.  I'm tempted to feel like this is once again a cheesy thing to give up for Lent, but... I really do feel like right now, time is my most valuable commodity, so freeing some of it up and devoting it to a higher calling seems like a suitable move for Lent.