I have held off getting a new netbook for quite some time, ever since Matt got a netbook by signing up with the Royal bank, I've been feeling pretty tempted to get one.  They`re like a real computer (not just a smart phone) but they don't burden a person like a full size laptop.  So with the most recent vacation the time arrived, to get one.  After some digging around, I decided to try the eeePC 1001P from staples.  Definitely, not the cheapest netbook in the choice of available models, but it had a few features that I really liked.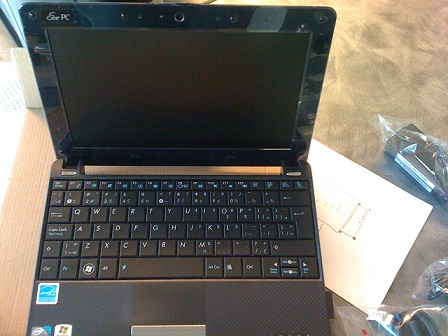 Splashtop.  8 seconds to being ready to surf the web or talk on skype.  I like that.  Waiting to boot up is a bit of a bummer.
Battery life is reportedly quite long.  They advertise 11 hours, but everyone who tests it says that you're more likely to get 7.5-8.  still 8 hours is a ton and I like that feature.
New processor and expandable RAM, Atom N450 for the processor and expandable to 2 GB of RAM with a 250 GB hard disk.  Honestly, I have no idea how they do it.
Price, this turned out to be less important to me in the end.  I could have gotten something for $250 refurbished from futureshop, but I ended up spending my birthday money to get the eee, largely for the reasons mentioned above.
I've started tinkering already, and I'm working on installing Debian on the system so that I'll be able to dual boot windows 7 and Debian.  Jo appreciates having a windows option for accessing some of the government sites that are built around IE and it's handy to have windows around to do IE testing for work.  I'll post my step by step update once I get the Debian install up and running, just need a little more time!