Heather and Jon have inspired me to try my hand at making fresh pesto from my basil plants.  So tonight was the night!  I cut my basil plants down to their lowest leaves and managed to collect 3 cups of basil.  One recipe, and a blender later we have home made pesto.  On first taste it is a wee bit salty but on second taste it is delicious.  Now to make some gnocchi...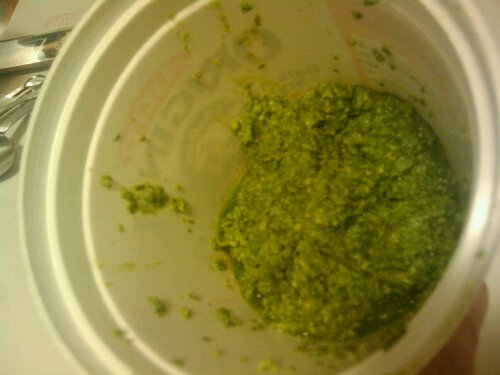 The picture doesn't do it justice, it is intensely green. So GREEN
The Pesto Recipe
2 cups packed fresh basil
Just over a 1/4 cup of olive oil
1-2 cloves garlic
1/2 tsp salt
Pepper to taste
1/2 cup parmesan cheese (bulk section type stuff)
3 tblsns pine nuts or blanched almonds
2 tblspns freshly grated pecorino romano cheese (or fresh parmesan from a chunk of cheese)

Blend it all together, taste, alter to what you like, but that is how we do ours!
I didn't have any pecorino romano cheese so I just skipped that part. Of course I haven't eaten all the pesto so the plan is to preserve it in the freezer in a yogurt container. That said I hope to eat it very soon.